Defense of Frostbain 2015
Part of UTC Imperialism
Date:
30th November - 31st December, 2015
Location:
Frostbain, Northern Midlands
Result:
Bandits stop attacking UTC
Combatants
UTC
95th Regiment
93rd Regiment
55th Regiment

TheKillerLemon's Bandit Group
Commanders
minecraftepic47
TheKillerLemon
Strength
4 Company Servicemen
4-5 Bandits
Casualties
Very Light
Heavy
The Defense of Frostbain 2015 was a conflict that took place in Frostbain, between UTC forces and TheKillerLemon's bandit group. It was instigated after an incident where user TheLuckyCharm of TheKillerLemon's group killed Company member princessdreya and threatened to kick out the Company from Frostbain in a private message.
A call for volunteers, led by minecraftepic47, to be mobilized to fight in Frostbain was made and during the course of the conflict, numerous small scale battles were fought in which every encounter with TheKillerLemon's group were won by UTC Volunteers.
The end of the conflict resulted in the UTC's continued control over the town and the simple demand of letting the Company be in the area smoothed tensions and created cooperation and friendly relations with TheKillerLemon's group that continued until 1st February 2016, where relations became strained due TheKillerLemon's attack on a trade run[1].

Company Member princessdreya was killed by bandits on the 26th of November 2015 while carrying gunpowder in preparation for the UTC's New Years Party celebrations. The attack would've been dismissed as another common bandit attack and ignored, but the threatening message of kicking out the UTC from a recently made Company Territory[2] made this a clan matter and a challenge to the UNKNOWN [?] Trading Company.
The Directory, more specifically Irishkaiser, at first was skeptical to the veracity of the message, and even the existence of the players responsible for princessdreya's death, accusing them as just another fanciful excuse for incompetence. Further investigation however proved princessdreya right and Company Members immediately began to send Frostbain patrols. Within four days, the situation escalated as TheKillerLemon's group began threatening to bring more and more people into the fight after every battle, which prompted an annoyed Irishkaiser to issue a Call for Volunteers to help end the fighting and bring TheKillerLemon's group to negotiations[3], thus began the Defense of Frostbain as an official, organized UTC effort[4].
Early conflict started out with Company members patrolling Frostbain with members from the 95th, 93rd and 55th Regiment patrolled for TheKillerLemon's group and attacking or ambushing them. Fighting centered mostly in Frostbain and attacks were tempered with warnings from UTC members who were told to explain why they attacked the bandit group in Frostbain.
Later Fighting and Recall of Volunteers
[
edit
|
edit source
]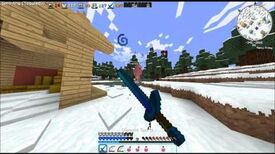 Throughout the fighting in Frostbain, many of the UTC's members and allies received threats from TheLuckyCharm about bringing large amounts of people against the Company. This threat made the Directory issue a Call for Volunteers to bring in more people to the fight in an attempt to end it quickly by a show of overwhelming force. It was later learned that it was a bluff.[5]
The amount of PvPers the Company could send to Frostbain on paper was adequate, the main difficulty was coordinating them and Irishkaiser delegated the authority to 95th Regimental Captain minecraftepic47.
A separate attempt at forcing peace began when boogaert started PMing TheKillerLemon in response to TheKillerLemon's frustration over being killed while he was not geared. Boogaert created a plan for peace between the groups where they would only fight in pre-agreed 1v1s, however he had to make it unofficial when he was told off by Irishkaiser for making an agreement without proper authorization and was forced to attack TheKillerLemon's group regardless of the gear they were in.
The main attempt at forcing peace was delegated to minecraftepic47 who by year's end managed to make TheKillerLemon agree on the terms and denounce TheLuckyCharm's insults and threats to Company.
The Legion D'Honneur of the Defense of Frostbain 2015.[6]
Minecraftepic47 - Cross of the Empire
boogaert - Bronze Star
Community content is available under
CC-BY-SA
unless otherwise noted.